✳️✳️✳️
AI, Art and the Law
Law & Tech Talk (LTT) Series by
Hamad Bin Khalifa University, Collage of Law
2021______Doha, Qatar
Art has evolved in tandem with developments in technology. With the emergence of Artificial Intelligence, however, we have computers creating art in a way that could minimize, or even eliminate, human input. Is the result actually art? Who is the artist? Who owns the work, particularly if it reflects other art or is the result of an algorithm?
This session will explore these issues largely from the perspective of three Education City artists, each of whom has been at the forefront of their field with one of them, a computer engineer by training, using AI to create new works. The legal implications of their work and analysis will also be addressed.
Moderated by:
Dr. Susan L. KaramanianDean, College of Law, HBKU
Speakers:
Dr. Pei Man James She, Associate Professor, College of Science of Engineering, HBKU
Mr. Jesse Payne, Associate Professor, Virginia Commonwealth University School of the Arts in Qatar
Hadeer Omar, Assistant Professor, Virginia Commonwealth University School of the Arts in Qatar
✳️✳️✳️
Digital Doha, Episode 4
2021______Doha, Qatar
✳️✳️✳️
✳️✳️✳️


The Art for Tomorrow Talks
(in association with The New York Times)
Nov. 2021______Doha, Qatar
The pandemic brought profound challenges for artists and performers, but also an opportunity to experiment and to reinvent the way they work. What are the creative ways artists embraced digital tools in new ways, and are they here to stay? Has this led to a wider acceptance and appreciation from viewers?
Daniel Birnbaum, Artistic Director, Acute Art
Barnaby Francis (aka Bill Posters), Artist-Researcher, Author, and Facilitator
Hadeer Omar, New Media Artist, and Assistant Professor, VCUarts
Moderated by Matt Anderson
✳️✳️✳️
Tasweer Festival: Contemporary Heritage projects
2021______Doha, Qatar
Sheikha Maryam Althani the curator for the Contemporary Heritage projects for Tasweer Festival was moderating a panel for the 3 Qatari heritage sites activation.
Panelists: Shaha Al Khulaifi, Mashael Al Hejazi and Hadeer Omar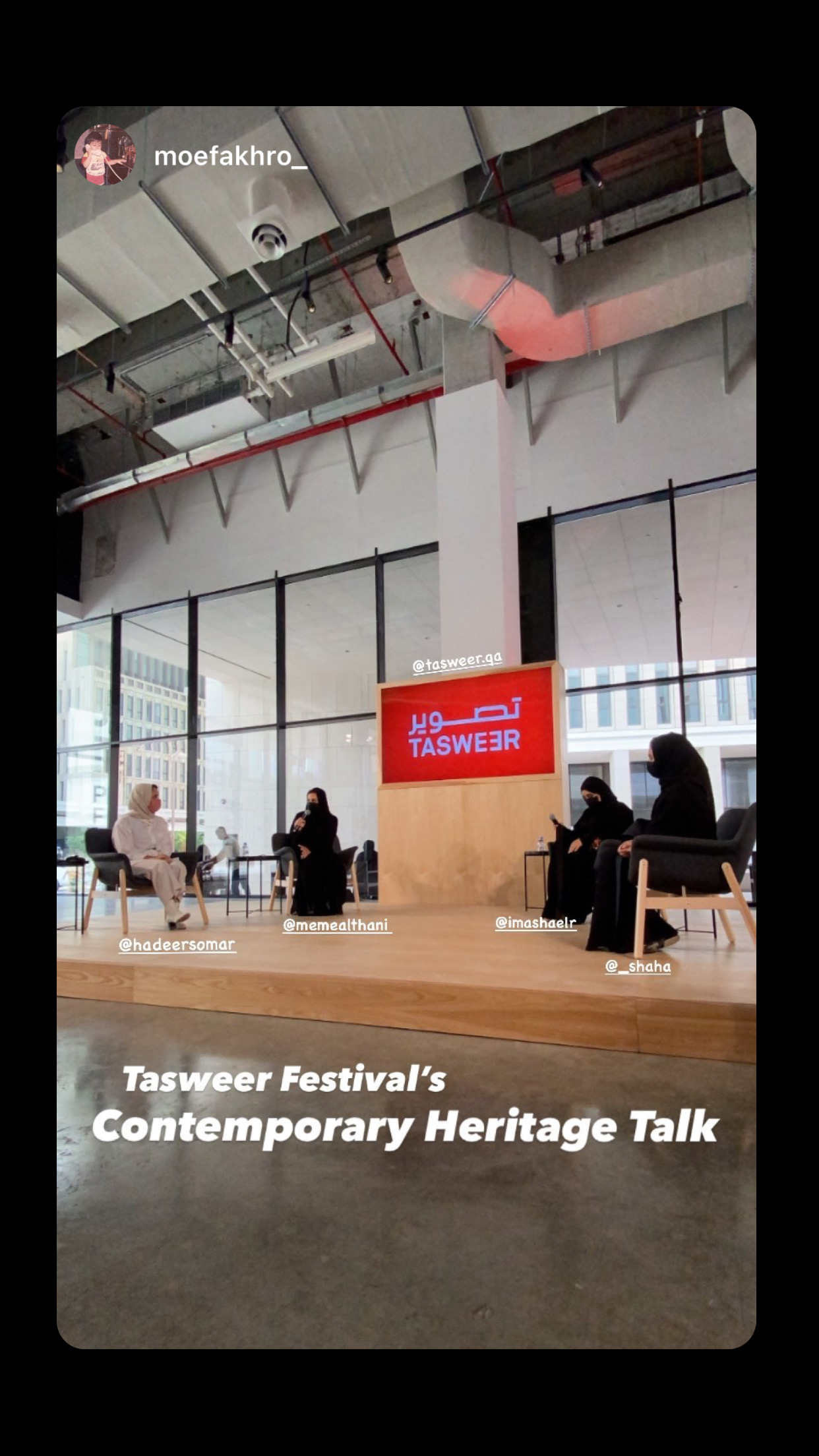 ✳️✳️✳️